*If you're a regular reader, be patient. I need to be a good hostess and tour guide for a few sentences.
Hi, if you saw my recipe in
The Record
today and decided to check my blog out, let me introduce myself. I'm Krysta and welcome to my blog, Evil Chef Mom. Let me give you a quick overview. I was born and raised in Stockton. I wanted to be a chef but then four little words happened... Katie, Andrew, Will, and Nancy and I became their personal chef. I love food and Stockton is in the center of everything agriculture, food wise, and has lots of different cultures to sample food from. While Stockton has it's problems, eating well shouldn't be one if you really try. So it made sense for me to start a food blog. More often than not, I try to keep it humorous but politics, the occasional rant, and an errant bad word or two do slip in. Up top, by the header, there are links to an archive of my recipes, frequently asked questions and a way to contact me. Other than that pull up a chair and stay a while.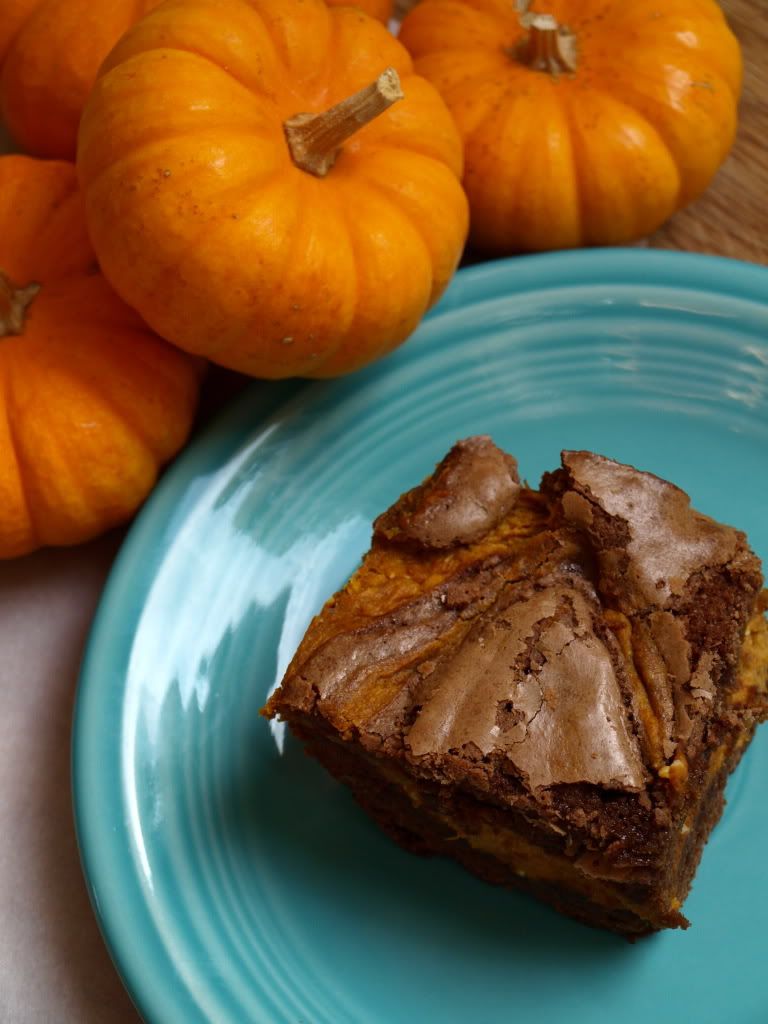 Pumpkin Cream Cheese Swirl Brownies:
Adapted From Martha Stewart Living
Serves 16
8 tablespoons (1 stick) unsalted butter, plus more for pan
6 ounces bittersweet chocolate, chopped
2 cups all-purpose flour
1 teaspoon baking powder
a pinch of cayenne pepper
1/2 teaspoon salt
1 1/2 cups sugar
4 large eggs
1 tablespoon pure vanilla extract
1 8oz pack of cream cheese, softened
1 1/4 cups solid-pack pumpkin
1/4 cup vegetable oil
2 teaspoons pumpkin pie spice
Preheat oven to 350 degrees. Butter a 9-inch square baking pan or dish. Melt chocolate and butter in a heatproof bowl set over a pan of simmering water, stirring occasionally until smooth. Whisk together flour, baking powder, cayenne, and salt in a large bowl; set aside. Put sugar, eggs, and vanilla in the bowl of an electric mixer fitted with the paddle attachment; beat until fluffy and well combined, 3 to 5 minutes. Beat in flour mixture. In a separate bowl beat together pumpkin, softened cream cheese, oil, and pumpkin pie spices until smooth. Divide the flour batter between two medium bowls (about 2 cups per bowl). Stir chocolate mixture into one bowl. In other bowl, stir in pumpkin and cream cheese mixture. Transfer half of chocolate batter to prepared pan smoothing top with a rubber spatula. Top with half of pumpkin batter. Repeat to make one more chocolate layer and one more pumpkin layer. Work quickly so batters don't set. With a small spatula or a table knife, gently swirl the two batters to create a marbled effect. Bake until set, 40 to 45 minutes. Let cool in pan on a wire rack. Cut into 16 squares.
Tasting Notes: Different but good. It's hard to describe. Let's put it this way... while they will never replace regular brownies, if you are craving pumpkin because it's fall and your body instinctively knows it needs a pumpkin pie fix but you don't want to go through all the trouble to make a pie. These will do nicely.
*Update: I screwed up. The lovely Sarah (a Record reader) kindly pointed out an error in the recipe. If it was me I'd yell "Hey dumb ass! You screwed up." But Sarah didn't and for that I'm eternally grateful. So let's make some amendments to the recipe... Ignore The Record recipe and follow the blog recipe. The blog recipe is a little clearer to follow.