It was a forbidden love. It started innocently enough. A young ECM saw and more importantly smelled a cute little piece of toast walking around the playground. He was lightly tanned and smelled of cinnamon. ECM couldn't help but be smitten by his cute little buns and his cinnaminny goodness. F.T. was so different from all the other breakfasts, with his swirly belly and toasty attitude. He was dangerous, an outsider,
a rebel
. All the other kids laughed and teased ECM.
Krysta and F.T. sitting in a treeK-I-S-S-I-N-GFirst comes loveThen comes marriageThen comes the baby in the baby carriage!If you love it so much why don't you marry it...
This is only a few taunts that ECM had to hear but it only made her stronger. 'I'll show them.' she thought, 'I love him. Just wait and see. One day, I'm going to marry him!'
So she found a friend that was willing and tolerant of French Toast-People marriage and asked him if he was willing to marry them. The friend said, 'Sure, I'll meet you at the playground after school.' ECM got dressed in her chef whites and then grabbed F.T. to go get married. After a quickie ceremony, ECM and F.T. went behind the portables to play doctor... and nine months later...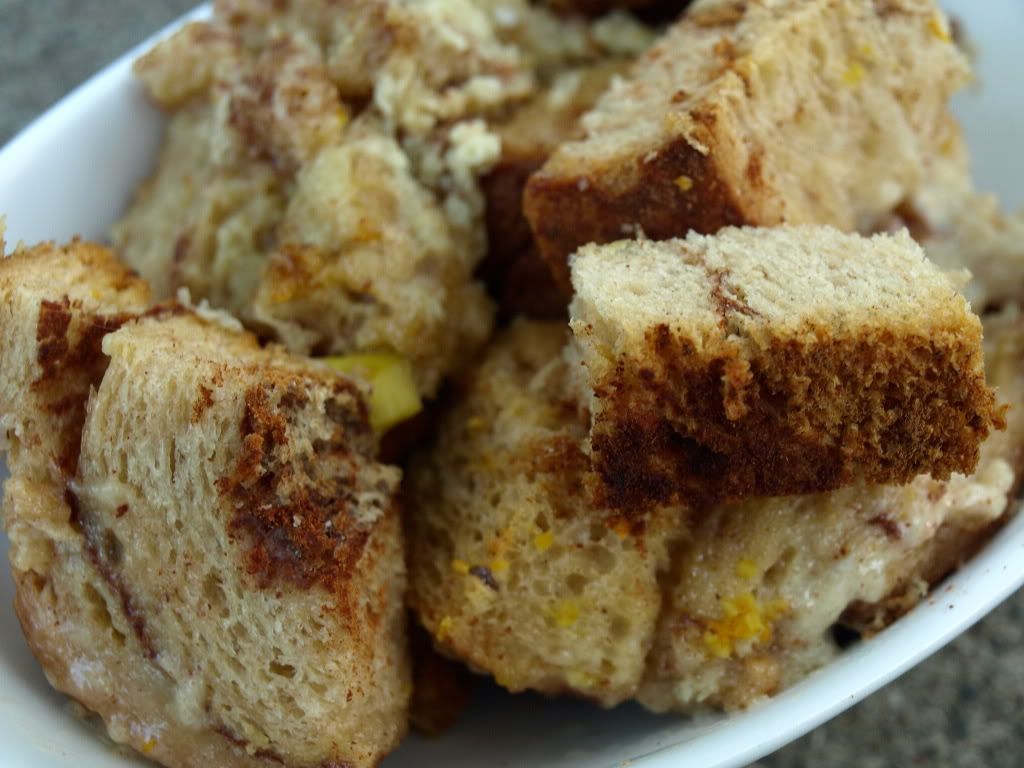 French Toast Casserole:
(heavily adapted from
A Yankee In A Southern Kitchen
)
4 tablespoons unsalted butter, melted
3/4 cup firmly packed light brown sugar
1 loaf of cinnamon swirl bread, cut into cubes (you can keep it in slices but young ECM is a rebel)
8 large eggs, lightly beaten
1/2 cup whole milk
1/2 cup of heavy cream
juice of one orange
1 tablespoon pure vanilla extract
1 teaspoon ground cinnamon
1/2 teaspoon freshly grated ginger
1/4 teaspoon of freshly grated nutmeg
zest of one orange
pinch of salt
1/2 cup chopped pecans (I didn't have any but if I did I would add it)
confectioners' sugar for accompaniment
pure maple syrup
Combine the melted butter and sugar in the bottom of a baking dish. Make a nice even layer of the mixture to cover the entire area. Place bread cubes on top and mush them into place. Whisk the eggs, add all the remaining ingredients except the pecans. Pour over the bread, letting it soak in. Sprinkle with a little bit more cinnamon, nutmeg, orange rind and ginger, if you want. Top with pecans and cover with plastic wrap. Keep refrigerated for at least 3 hours or up to 12 hours. Set out at room temperature for 20 minutes before placing into a hot oven set to 350 degrees. Bake until lightly browned and set, 35 to 40 minutes. Remove and slightly cool. Serve warm maple syrup.
Tasting Notes: Can I say an orgasm for your mouth or is that a little too much? I told you it was a forbidden love...
admin notes... i never did the throw up at the movie theatre that was a line from the goonies, i did some bad stuff but never that! also the first projects from
5x5
are up. take a look at what our lives look like at 5 o'clock.
and did anybody notice the new banner? happy halloween! my talented 'other daughter' julia, creator of the potato ho and my original banner created a special halloween banner. she kicks ass. thank you, julia!