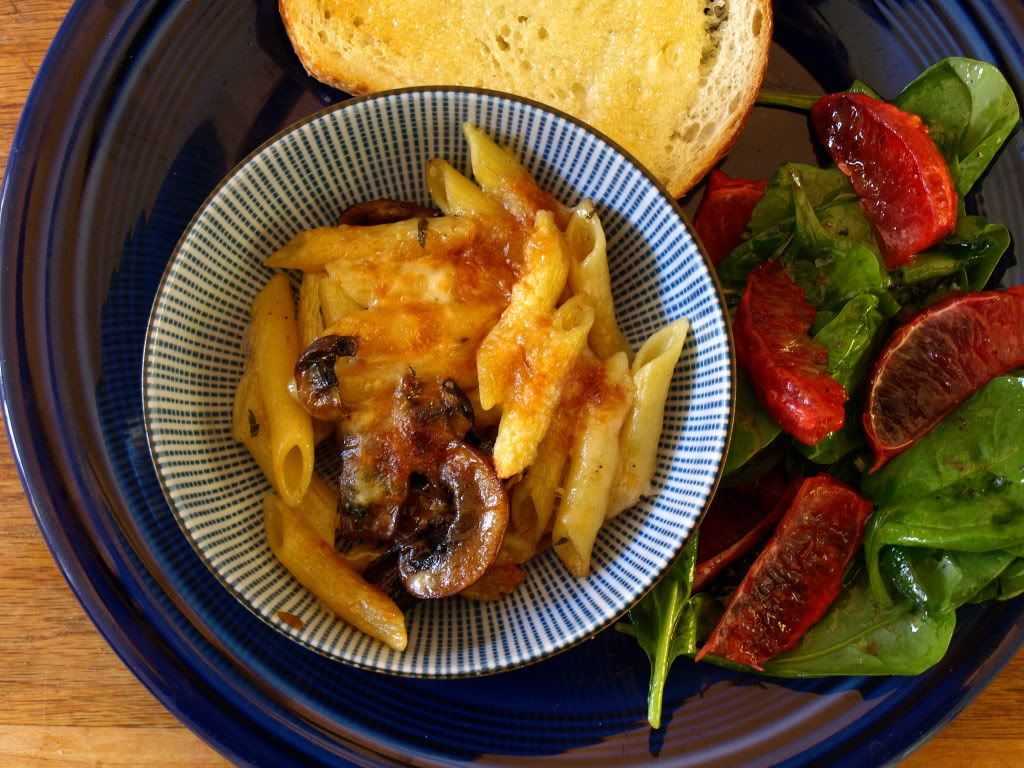 I absolutely love fall. It's freckinfalltabulous! I can cook food that I otherwise couldn't make in the summer because it would be hotter than my little rear end deep frying in the bowels of hell. Anyways, with all that warm comfort food I can wear sweaters to cover up my winter blubber. Which if I was deep frying in hell, would make me an extra crispy and wonderfully tasty afternoon snack for someone. Satan, comes to mind. Sure, I won't be
MADOF
but I'll be cuddly with all my extra padding. Fat, if I'm being truthful but still cuddly.
In all fairness, I need to tell you I butchered this recipe.
*sigh*
I forgot the sausage and cream
*more sighing, with head shaking*
which would have been a lovely addition.
*head now hanging down in shame, wringing hands*
I sauteed the mushrooms in shallots, olive oil, butter, Italian parsley, and white wine. It was great just as it was, because I
am
Evil Chef Mom but I can only imagine how much better it would have been with sausage and cream.
*now weeping at the thought of how great it could have been*
Sausage and Mushroom Penne Gratin:
(heavily and I mean heavily adapted from Gourmet November 2008)
serves 4 to 6
1lb dried penne
1lb bulk sweet Italian sausage (forgot it)
2 tablespoons olive oil, divided
1 lb mushrooms, sliced
1 garlic clove (used a shallot instead)
1 cup heavy cream (oops forgot it)
1/2 cup grated Parmigiano-Reggiano
8 oz shredded whole-milk mozzarella
Cook penne in a past pot of boiling water. Cook until al dente. Reserve 1/2 cup pasta cooking water, then drain pasta and transfer to a
(I love this instruction)
a flameproof 3 qt baking dish. (
Seriously, it's going in under the broiler, it better be flameproof! Are we that stupid nowadays, we need to be told this?)
Preheat broiler. Meanwhile, cook sausage in 1 tablespoon of oil in a 12 inch nonstick skillet over high heat, stirring occasionally and breaking up any large pieces, until no longer pink. Transfer with a slotted spoon to a bowl, leaving fat in skillet.
(What I did was put the tablespoons of oil and two tablespoons of butter in a hot skillet and sauteed the mushrooms and shallot, until the mushrooms were good and caramelized. Then added a 1/4 cup of white wine, a handful of chopped Italian parsley and some salt and pepper to taste. I then let the wine cook off some. Mixed it with the pasta, added the cheese and stuck it under the broiler. Until bubbly and golden brown)
Add remaining tablespoon of oil to skillet along with mushrooms and garlic, then cook over high heat, stirring occasionally, until mushroom are golden, about 3 minutes. Return sausage to the skillet along with cream, reserved pasta water, a rounded 1/4 tsp. of salt, and 1/4 tsp. of pepper and boil over high heat, stirring once or twice, until thickened, about four minutes. Pour over pasta, then stir in 1/2 cup of mozzarella, and salt to taste. Spread evenly in a baking dish and top with remaining mozzarella. Broil 3-4 inches from heat until golden brown in spot, about 5 minutes.
Tasting Notes: If anybody actually makes the Gourmet version, let me know how it tasted!
As for the salad... make it. All it is is spinach, peeled and sliced blood oranges, sliced Haas avocado, salt and pepper, a little good olive oil and sherry vinegar. It is easy and makes you feel all elegant and gourmet and healthy and stuff. Can you see I am all out of adjectives today?